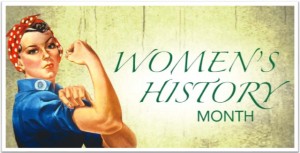 March is Women's History Month!  Women's History Month stemmed from a national celebration in 1981 when Congress passed Pub. L. 97-28 which authorized and requested the President to proclaim the week beginning March 7, 1982 as "Women's History Week." Then, in 1987 Congress passed a law which designated the month of March as "Women's History Month."
Although every year we make more and more progress, the work is never done! That said, each year a theme is chosen and women are selected and highlighted for their achievements and efforts in that particular field. The 2017 theme for National Women's History Month honors women who have successfully challenged the role of women in both business and the paid labor force. To see a list of the 2017 nominees and honorees click here. Cheers to these women!
Like most musicians, my creativity and passion for music stems from life experiences, through leaders and people I respect and look up to. Last year, I wrote a note to the "Women In My Song." This year, I would like to pay tribute and say thanks to a few female musicians that have inspired me along the way!
Women Who Have Influenced Me:
Alecia Keys
Allison Kraus
Ana Popovic
Aretha Franklin
Bessie Smith
Beyonce
Cathy Fink and Marcy Marxer
Celtic Women
Chibi Kodama – GREAT family band with one dad and 4 girls
Elizabeth Mitchell
Emmylou Harris
Etta James
Eva Cassidy
Gillian Welch
Go-Go's
Iggy Azalea
Janice Joplin
Joni Mitchell
Lynn Skinner
Maura O'Connell
McGarrigles
Melanie DeMore
Missy Elliot
Odetta
Patti Smith
Sia
Sinead O'Conner
Sweet Honey in the Rock
Roches