If we are connected on social media, you may have seen me share some images from this past February when I attended the GRAMMY's. I was honored to attend in support of my good friends, Wendy and DB, who were nominated in the Children's Music Category, for their blues album for children, "Into the Little Blue House" and all the other amazing musical artists I know.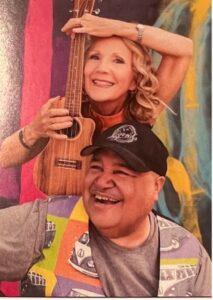 Since my first record, "Hunk-Ta-Bunk-Ta BOO," I have been a professional voting member of the Recording Academy. And although two of my songs were on an album of six songs ("A Child's Gift of Lullabyes"), that was nominated for a GRAMMY, I have avoided the hoopla of the actual GRAMMY event. However, the actual awards are a relatively small part of the other work that the Recording Academy does.  Read all about it what the Recording Academy does here: https://www.recordingacademy.com
Plus the GRAMMY's have meaning and historical significance for the entire musical industry. And being in the presence of some of today's top musical talent, was truly thrilling.
The first GRAMMY Awards took place in 1958. The event was created to provide a way to celebrate the hard work demonstrated in the music industry, and a specific place for recognition. Back then, the Oscars and the Emmys recognized film and TV- but there wasn't a musical equivalent. The GRAMMYs finally provided a place where songwriters, composers, musicians, producers, recording engineers and industry professionals could finally be recognized.
The importance of networking
The GRAMMY award process really begins MONTHS before the actual televised program. People complete albums before a September deadline, then begin their onslaught of sending postcards; letters; expensive CD packages; emails; audio/visual links and texts; posting on Instagram/LinkedIn/Facebook/TikTok etc, and making countless phone calls over and over and over again hoping to woo votes from the Recording Academy members. And the week or two before the Grammy's there are myriad parties that artists host. I arrived on a Thursday and by Friday morning, had been to three.  (More about the after parties later). These parties are one of the best ways to network with others.
Friday night , I attended a showcase presented by Eileen Sherman Grant Maloy Smith. The Indie Collaborative represents over 2,000 musicians and industry professionals globally, and the people I met there are among the most pro-active, talented (many are Grammy nominees and winners), and supportive people I've ever met. Check out this incredible line-up!
Grant Maloy Smith (singer, songwriter, musician); www.grant-maloy-smith.com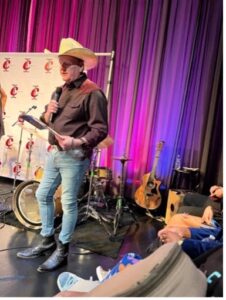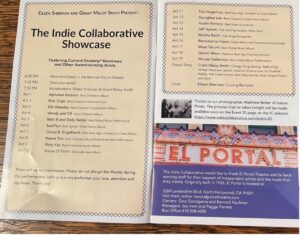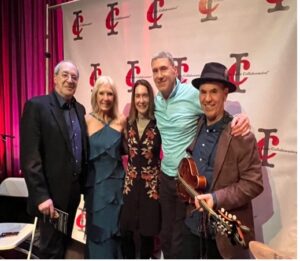 Fun at the Indie Collaborative. Group photo of:
Another highlight for me this year, was planning a breakfast Friday morning for any and all children's entertainers who happened to be at the 2023 GRAMMYs.  It was not only a great networking opportunity for everyone, but to have such a creative group of 150 passionate musicians come and show mutual support for one another- was amazing!
Musicians are the most supportive folks!
I've never felt more supportive and included as I did during this trip. I felt a sense of belonging to a true family! Engaging with nominees and people with shared passion for serving our community, supporting music education, and ensuring that diverse voice are heard in our industry- was a touching experience. Last year, the artists in the children's category took a strong stance on this when 3 out of the 5 nominees reneged their nominations due to the fact they felt the academy didn't reflect a diverse community
A Fun Fact:  The televised GRAMMY award program we have all come to know, only shows the awards for the most well-known categories (Country, Pop, Rock, Rap, R&B, etc.).  Now, there is even a separate Latin GRAMMYs award ceremony.  Since I'm a voting member, I am well aware of all the other categories.  And those awards are presented the afternoon prior to the evening production. (Yes. It's a very very long day).
You get up early, have your hair and make-up done  (if you wanna)

…To finish, with BIG thanks to amazing make-up by Jenesa (Beyonce's Production Manager!)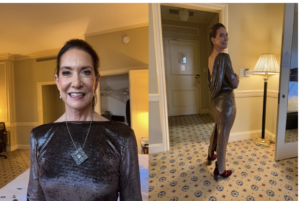 Then you head out to the Red Carpet- where posing and posting constantly is a requirement.  Then there's the four-hour Premiere Ceremony. I saw all 79 of those smaller categories like, "Spoken Word/Poetry", "Regional Roots", "Classical Solo Vocal Album", etc. receiving their awards.
Randy Rainbow hosted the premiere show, and the Blind Boys of Alabama were one of the openers, and Amanda Gorman was one of the amazing presenters.

After the Premiere Ceremony:
Everyone has to exit the space so they can prep for the televised awards, so off I went with Beth Blenz-Clucas, (www.sugarmountainpr.com) my long-time PR person, and her husband Richard for a much needed lunch. We then waited in a long line to get back into the venue and had a blast posing and ogling at the outfits!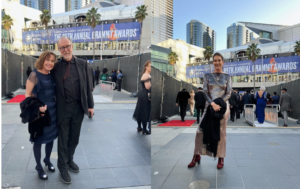 Inspiration was everywhere!
Being in the room with so many musical geniuses was incredible. Whether it was admiring a long-time idol or taking in newly discovered talent- there was a powerful sense of greatness in the air. The ability to connect and learn from one another is how we thrive in this industry. It was an honor to network and chat with people representing such a vast array of roles. From songwriters to music producers, to singers, to sound engineers- it was amazing to celebrate one another and the language we all love: music!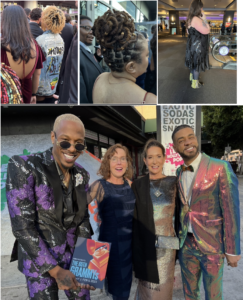 The final GRAMMY experiences were the after-parties. Wendy and DB had a lovely one and when Twinkle Time (bi-lingual pop artist for kids) www.twinkletimeandfriends.com and her partner/producer showed up, we had a blast.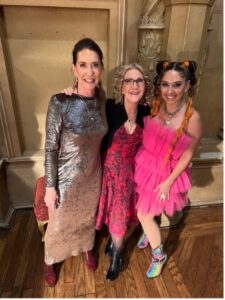 Then it was on to Grammy-Winner Kitt Wakeley's, (Best Classical Compendium for his album "Adoption Story"), composer, songwriter, musician, and music producer, which was fantastic. The whole place was rockin' with talent, good food, flowing champagne and more mingling.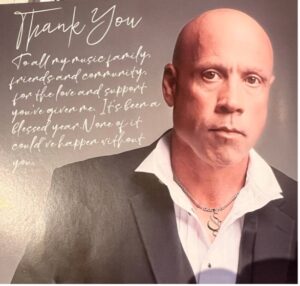 After the GRAMMYS, I returned to Colorado, feeling revived and inspired by my own colleagues, collaborators and the amazing talent! Some key takeaways from my 2023 are the importance of networking; remember the spark of inspiration, and know that your musical families are some of the most supportive and inclusive people in the world.