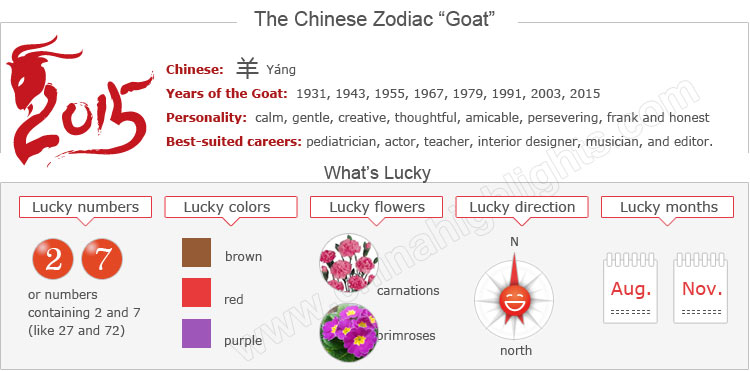 Happy Chinese New Year! Yesterday, Feb 19th, marked the launch of "the year of the Goat." This year is particularly special as the Chinese Element Theory deems 2015 the year of the "Wood Goat." The Element Theory states each Zodiac sign is associated with one of five elements: gold (metal), wood, water, fire, or earth. The Wood Goat only comes around every 60 years!
Unlike our Zodiac calendar, the Chinese calendar is a Lunar calendar associated with the Chinese Zodiac. The Chinese Zodiac has 12 animal signs. This includes rat, ox, tiger, rabbit, dragon, snake, horse, goat, monkey, rooster, dog, and pig.
Just like in the U.S, the New Year is a huge celebration. In China, families gather to eat, reunite and participate in traditional festivities. People hang LUCKY red decorations everywhere! Red is the main color of this spring festival and is thought to bring the greatest luck and fortune.
Are you a goat? If so, enjoy some fun facts about yourself?
Lucky numbers: 2, 7, or numbers containing 2 and 7 (like 27 and 72)
Lucky days: the 7th and 30th of any month according to the Chinese lunar calendar
Lucky colors: brown, red, and purple
Lucky flowers: carnations and primroses
Lucky direction: north
Unlucky colors: green, blue, and black. Goat people should avoid wearing these colors
Unlucky numbers: 6 and 8
Unlucky direction: southwest
Worst lunar months: third, sixth, and tenth. Avoid these months if you have some important business to do or want to plan an event
Love annd relationships: Married Goats will get along well with their spouses and will enhance their relationships through daily quarrels
 Single Goats will find their lifelong love under the guidance of elders, however they should show more care for their partners in order to avoid family disputes.