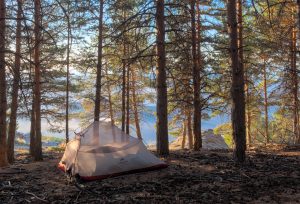 My dad was my role model when it came to outdoor life.  Whenever we would go anywhere outside, he's say "Let's GO!" Summer is a time for bringing families together and sharing adventures. This extra layer to all of our lives– COVID– is leading us to use our imaginations and getting out of our houses and into the great outdoors.  One of my favorite summer activities is camping.  So… Let's GO!
Here are some fun ideas you can do before, during and after you camp:
Prepare!  Figure out where you want to go and for how long.  Maybe it's outside in your own or a neighbor's yard for an afternoon nap. Or maybe it's a real camping trip for one or more nights.  If you google "places to camp near me" you will be amazed at what pops up on the internet!  Find a new park and or a campground that you have never been to! Plan a road trip to a beautiful spot you can enjoy and car camp.  Or better yet: locate public use lands via this link.  There are tons of  resources out there.
Plan what you'll need.  How far are you traveling and for how many nights?  What kind of activities will you be doing once you get there?
REI offers this link for beginning campers.  You definitely don't need all the items they suggest and probably have quite a few of them.  If not, I bet your neighbors to!  No matter what make sure to follow this Girl Scout Motto: "Be Prepared." You never know what might happen on an outdoor adventure!
Try to find a site that is close to water! A river, beach, lake or a creek will do the trick.  Cool off and dip your toes in or take a dunk.
Locate a flat place where you can pitch your tent.  Gather wood for a fire pit and ring the area with some large stones, or set up a kitchen/cooking area for your camp stove.  (Some campgrounds provide firewood and fire pits and even grills.  Be SURE to store all food and garbage in your car or hang it between two trees high up on a rope, because wildlife (particularly bears) LOVE human food and will be sure to find it.
"The Very Scary Hairy Bear" is a song I wrote that was inspired by one of my first camping trips.
Leave ABSOLUTELY nothing except footprints when you go.  Carry EVERYTHING tiny scrap of paper, gum, food, etc. out with you.  My good friend who is a park ranger even covers her footprints by swishing a pine bough over them.
Now it's time for even more fun:  What can you do without a cell phone, iPad or computer? Hmmmmm.   Zoom into nature. That's what! Here are some ideas:
Make a hiking stick.  Find a tall straight stick, remove the extra twigs and take a hike.  Find animal trails and wonder where they go and what animal made them.
Have a scavenger hunt! What can you discover? Have each person in your family make a list of 5 things they see.  (Ant hill, bird nest, animal footprint, unusual rock, flowers blooming, tree stump, etc.). Then have everyone pass their list to someone else.  Go through the list and see if you can find what your other family member did.
Notice the ways light changes during the day.  See if you can tell the time of the day and what direction you are facing by looking at the shadows under trees.
Listen to the beautiful music in nature that's all around you:  water gurgling, chipmunks chattering, squirrels scurrying up and down tree bark, bees buzzing, birds tweeting, wind whistling, trees creaking, etc.
Choose a rock or fallen tree to sit or lie on and "read a book." Some of my favorite places to go and to travel are found inside books, like this song from Hunk-Ta-Bunk-Ta BOO-2, "Read a Book."
Build a campfire.  Sit around it together and share stories and sing songs. Here are some good camp songs to sing around the fire.  What are some of yours?
https://www.care.com/c/stories/3343/50-great-camp-songs-for-kids/


Watch the very dark night start to brighten! Without city lights in wilderness, the universe is even bigger than we can possibly imagine.  Look for shooting stars and make a wish if you see one.  Learn some of the shapes stars make called "Constellations."
This song is from my newest CD, Hunk-Ta-Bunk-Ta HOLIDAYS Songs and Stories that Celebrate Global Light  called "Stars". I never get tired of looking up at a black starlit night, imagining what other forms of life there might be and being completely awestruck at lifee on our own tiny planet. As we know it, the cosmos is beyond our comprehension.  However, each of us has important work to do while we are here.  So– Let's GO!
Let the sounds of the night rock you to sleep.   You might hear an owl hooting, coyotes howling or frogs croaking. Listen  They have important work to do too!
Wake up early and watch the sunrise!
Need advice on camping with the kiddos?
https://www.nps.gov/subjects/camping/camping-with-kids.htm
https://www.rei.com/learn/expert-advice/camping-kids.html