During these unprecedented times, we have all been forced to spend holidays, family times and celebrations a little differently. Yet we can still use creativity to ensure joy, fun, collaboration and SPOOKYness for #Halloween.
Creative activities: Right off the bat, get your family to read through my SPOOKY lyrics and create their own scary stories.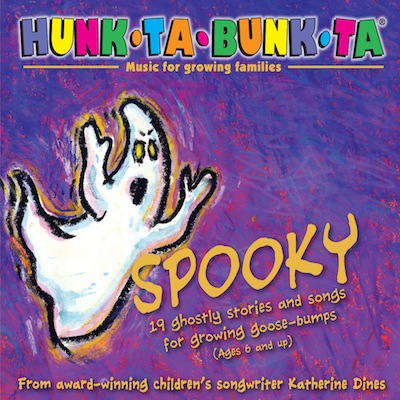 Using my song, Ooey Gooey Stew, set up a Zoom dance party and see what kind of moves you and your friends can make.
I'm re-sharing the article from HealthyChildren.org for some more ideas for #Halloween.
Virtual costume parties & parades:
Use video chats to hosts online parties with friends and family. Share recipes, make and show-off costumes, sing spooky songs, tell and act out stories and play games. Have fun! In cold climates, this may be the first time your child can wear a costume that doesn't have to be hidden under a coat or parka! Outdoor costume parades or dance parties are another option if the weather is nice. If so, you can even bring your neighbors together, as long as you stay at least 6 feet apart and wear cloth face coverings with your costume.
Remember: Costume masks can't replace cloth face coverings unless they have several layers of breathable fabric and cover the mouth and nose snugly. Since some paints contain toxins, be sure not to paint your Co-Vid mask.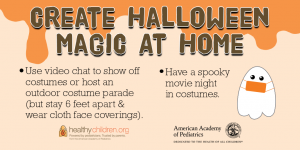 Spooky movie night:
Plan a movie night and dress as your favorite character/s in the movie. Do this as a family at home or encourage your child to watch with their friends while video chatting, with everyone starting the movie at the same time. Here is a great website with some good family-friendly movie suggestions.
Decorating pumpkins:
This is one Halloween tradition that is so much fun, as long as you are careful to avoid pumpkin-carving injuries. Instead of knives, children can draw faces with markers, and parents can do the actual cutting. When the carving is done, try rechargeable battery-operated LED lights inside the Jack or Jill O'Lanterns rather than actual candles. Save the pumpkin seeds, clean off the pulp, dry them out on a towel then roast them slowly in the oven from the pumpkin for a healthy snack!
Here's a great tasting recipe for Pumpkin seeds:
1 cup dry pumpkin seeds (pulp removed)
½ stick unsalted butter
¼ cup soy or tamari sauce
Melt butter and soy/tamari together in small pan and mix in pumpkin seeds. Coat thoroughly. Pour all onto baking sheet. Roast slowly in a 300 degree oven, for 45-60 minutes or until dry and crunchy turning once or twice with spatula.
Halloween-themed treats to make as a family:
Pumpkin pizzas: Decorate pizzas with toppings in the shape of a jack-o'- lantern.
Fruit pumpkins: Using black markers, draw faces on the rind of an orange or tangerine. Then stick a thin slice of celery on top to look like a stem.
Caramel apples: Using a small deep saucepan, melt one package caramels in double boiler on stove. Stick popsicle sticks into apples and swirl each apple in caramel sauce. Cool on waxed paper.
S'mores: If you happen to have a fire pit or be by a grill, roast marshmallows, then make a sandwich by added the roasted marshmallow to two graham crackers covered with squares of chocolate.
Ghost toast:Use flour tortillas and cut them in ghostly shapes. Decorate the ghosts using white or cream cheese, red peppers, black olives and hummus. Broil briefly in the oven.
Kiwi spiders: Cut kiwi fruit in half and place cut-side down. Add 8 straight pretzels for legs. If your child is under 3, be wary of treats that can be a choking hazard.
Community events (hopefully outdoor)!
Look for community events focused on safety AND fun. These may include programs offered by a park district, arboretum, zoo or other outdoor venues in your area. Stay away from crowds and follow safe-distance rules even when outdoors. Try visiting a haunted forest, pumpkin patch, corn maze, zoo or botanic gardens and avoid haunted houses and enclosed spaces. Outside activities are safe as long as faces are covered, one-way walk-throughs are provided, and numbers of people are limited. If you think there may be screaming, make sure to allow extra distance. For outside activities, use reflective tape on costumes. Make sure shoes fit well and costumes are short enough to prevent tripping or contact with flames.
Remember:
Halloween during the COVID-19 pandemic is a chance for you and your children to get creative, and maybe even invent some new traditions! It's also a great opportunity to model flexibility and a positive spirit. If you're excited and make it fun, your kids will have fun, too. More importantly, this is a good time to teach children the importance of protecting not just themselves but others, as well. The decisions we make on this one day can have a ripple effect beyond our own families. Finding safe ways to celebrate can create magical memories.