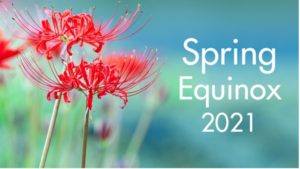 Anyone who knows me knows that the Spring equinox is one of my favorite times of year! The concept of brightness, light and shine holds dear not only in life but in my #Hunktabunkta Music. My last CD, Hunk-Ta-Bunk-Ta HOLIDAYS was a series of songs and stories that celebrate global light. With light, comes joy and with joy comes happiness. We can all use some more of that after this past year!
Celebrating Spring Equinox:
This year the first day of Spring was March 20th! The equinox occurs when the Sun crosses the equator, heading north. The crossing of the Sun into the Northern Hemisphere is what marks the start of Spring and the time where both day and night are almost equal in length! Once Spring is here, we get more SHINE into the later hours of our day!
Did you know?
The spring equinox happens March 19, 20, or 21 every year?
The equinox happens at the same moment worldwide.
Day and night are NOT exactly equal during the equinox
Based on our annual temp cycles Spring is actually March 1st– May 31st
Shift In The World:
This year's start of Spring, marks our 1-year mark of COVID—a pandemic that has changed our lives. Many of us have been affected by sheltering in place, working from home, losing loved ones and friend, or adjusting our lives in other ways for an entire  year. That said, we are finally starting to see the LIGHT at the end of the tunnel. With vaccines being officially rolled out, we now have realistic hope of in-person gatherings and human connection. My collaboration and re-write of "In Our Hands" was something created in reaction to our life-altering change. I shared this video almost 1 year ago!
Written with my dear friend bonnie Nichols who lives in Soldatna, Alaska.
Earth Altars:
For the coming of Spring, the sense of hope and more light, I am grateful.  A few people created  "earth altars" and shared them on Zoom the first day of the Equinox to show gratitude for our planet, welcome the Equinox and celebrate  the warming weather. Earth altars can be made by anyone out of natural materials of our earth.  Here's the one I created, and I encourage anyone to make an Earth Altar.