What a time was had by all at this year's 30th annual Children's Music Network Conference. CMN was founded over copious amounts of coffee (and wine) on the east coast by four well-known songwriter/singers, educators and members of the Peoples' Music Network- Ruth Pelham, Bob Blue (sadly deceased in 2006) and Sarah Pirtle.
Their original mission was strong and has only become stronger over the years. "The Children's Music Network celebrates the positive power of music in the lives of children by sharing songs, exchanging ideas and creating community."
One of the most exciting things for me was that my song "All the Way Around the World" was chosen as the conference anthem, and I got to perform it at the opening with a bunch of my favorite CMNers!
One of my favorite things about CMN's conferences, is reconnecting with like-hearted people—all of them committed to reaching children of all ages through music.  CMN's members include: full-time and part-time performers, songwriters, classroom teachers, music educators, librarians, storytellers, record producers, distributors, broadcasters, parents, grandparents, and children. We sing, share, teach, write, play, perform, produce and enjoy children's music. We are diverse in age, ethnicity, gender, religion, sexual orientation, and culture. We welcome all musical styles.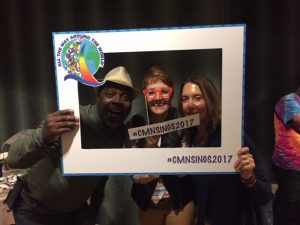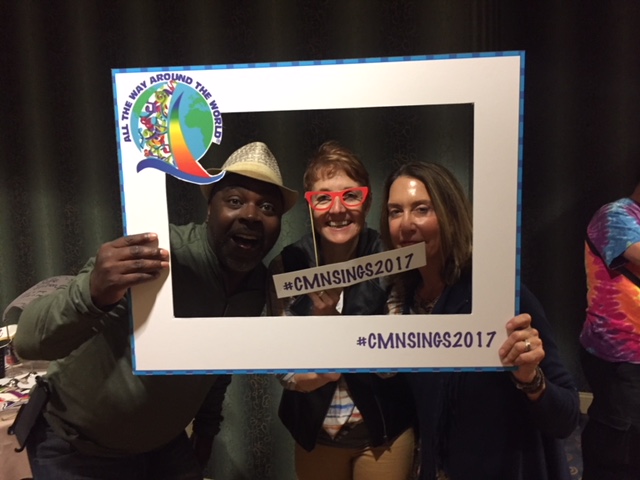 I have been committed to CMN for many years. In fact, I served on the board for 9 years shortly after it's inception, and back then, at the beginning of my career it was an important window into the world of children's music. I returned to the board in 2009, and ended my tenure at this conference, after serving as co-president with David Heitler-Klevans this past year.
I love our board because they inspire me! They are all dedicated people, passionate about children and music, and uber volunteers. We make it a point to connect and meet lots via google hangouts and conference lines. Our team is divided into three main committees- Marketing, Fundraising and Membership.

We even have two social networkers…….the lovey ladies below!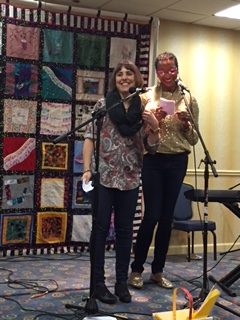 Ken Whiteley presented our keynote this year. He is an amazing musician and producer. This year's CMN keynote speaker Ken is a Canadian roots music legend. Ken has been performing since 1965 and making music with children for over 25 years.  Accomplished on over a dozen instruments, his musical styles range through folk, blues, gospel, jazz, Caribbean, country, original songs and much more.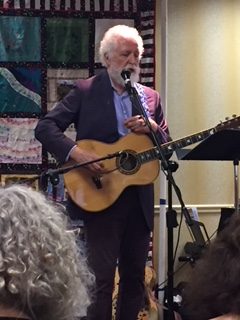 The conference continues on and songs are shared over two whole nights of listening known as the "Round Robin." Anyone can perform one song. This was a great one about Egypt by Jessica Hebron. Enjoy and take a listen- IMG_1141
Also, the workshops are excellent. This year I attended four of the workshops. Grammy nominee Alastair Moock's was a tear-jerker with a happy ending.  He created a cd for and with his little girl when she was diagnosed with cancer.  It became a huge success and is in hospitals around the globe. Be sure to click through and watch the video of Alastair Moock- IMG_2832
One workshop that I found really helpful  Alina Celeste's—talk on "All about creating your own YouTube channel."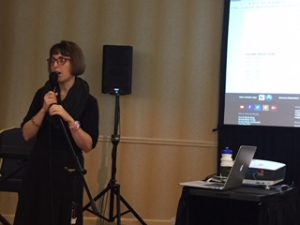 And then there was Jackson Gillman's wonderful workshop on sign language.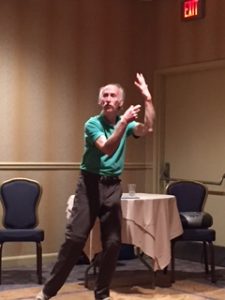 Finally, CMN bestows a "Magic Penny Award" annually to a person who has dedicated his or her life to empowering children through music. This year's well-deserved recipient was the wonderful songstress, singer and activist, Sally Rogers. Enjoy a video of Sally Rogers accepting her award HERE.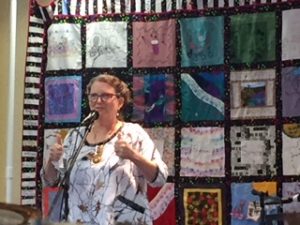 There is always a closing circle too, which ends the weekend on a perfect note.
CMN's conference bounces between both coasts and somewhere in the middle of the country. Next year, the conference will be in Sandusky , Ohio and in 2019—Phoenix, AZ so mark your calendars for the second weekend in October, and join us!  We will be going strong for another 30 years!