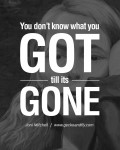 One of my friends spent 5 years of her life living out of a cardboard box, because she wanted to explore working in other countries. So she stored her furniture with a friend, and sold anything that wouldn't fit into that one box.
"You don't know what you've got 'til it's gone," said Joni Mitchell, in that great lyric. However, I happen to know exactly what I've got–even though it's all boxed up, out of site, and gone as far as I'm concerned–stacked into our newly purchased home's garage. Somewhere in the middle of the garage at the bottom of a stack is a large box clearly marked: "FOR IMMEDIATE USE/STORE INSIDE." Do toothpaste, dish soap and shampoo freeze? I hope not, because our garage and everything inside is definitely going to freeze this winter and there will be no unpacking those boxes 'til spring or even summer!
We left our former home in mid-August and found a terrific new one in need of a remodel. Knowing that would take some time, we decided to move the only the bare necessities: our bed, my desk, and a few kitchen items into the new house; and store everything else. The new garage seemed like a good option for the rest of our belongings. At least 15 of those large boxes were full of 1/2 inch reel to reel tapes, (pop and country songs I recorded in the mid-80's), 8-track recordings, cassettes, minidiscs, DVDs, and even CDs. Forty years of blood, sweat, and passion, and those 15 humongous boxes are digitized and now stored on a single small 6″x6″ Terabyte drive. Talk about downsizing!
My dad keeps asking, "Why?" Why did you move? Why are you going to remodel? Why are you living like gypsies? Why do you only have 4 plates and cups? Why aren't you unpacking all your boxes? Why? Then about two weeks later, my dad's health took a turn, so he and my mom decided to downsize drastically–in what they called "Their Final Move." So we had to rent a storage unit. Why? Because they gave us a lot of BIG furniture, heavy books and boxes filled with any and everything they didn't have room for anymore. Plus, how can you say "no" to your parents' best beloved memories?
But now I'm asking the same question in a different way: "Why?" Why do we–does anyone–have so much? Why do we keep things that remain packed in boxes, on bookshelves or piles of photographs? Why do I want my dad's collection of 300 hunting magazines from the 1970's, my mom's mink coat, my grandfather's WWII oil cloth down sleeping bag that weighs 8 pounds, my great grandmother's box of ribbons that require ironing? Why do I even want the things I have selectively chosen to accumulate? Leather postcards, old valentines, handmade dolls from around the globe, and African stools? Will I or anyone ever listen to the songs on that Teradrive? Why?
Why, when so many people in the world are being forced to leave their homes, countries and continents with NOTHING but the clothes on their bodies and (if they are lucky), some of their beloved family members, do I want/need/care about ANYthing other than family, friends, my dog, food and shelter?
There are definitely a few "things" I am starting to miss–like that toothpaste and toilet paper, and my winter boots. But for me, life is a cakewalk. I can go to a store and buy whatever I need.
My loved ones are close by. We all have food and shelter. My husband and I get paid to work. Could we host a family of refugees who have nothing? Maybe not just yet, but sometime soon. And I know my dad will ask "Why?"
What can you live without? Determining what is essential or important can help simplify your own life. De-cluttering can enhance the value of items you actually require in your daily life. Living with less is allowing me more time to focus on the things that matter to me: writing more songs, (a new album or two coming soon!), practicing and teaching Yoga, volunteer community works, and being with loved ones.
Ask yourself "why" you have what you do, and leave a comment below sharing what you could/would/might and possibly should live without for a period of time–and how it might help you redefine your own life.