With the summer coming to an end, back to school season underway and the Fall Equinox quickly approaching- we wanted circle back to one of our most popular blogs "Let's Go Camping!" As I mentioned in it, my dad was my role model when it came to outdoor life. Just before we would go anywhere outside, he'd say "Let's GO!"
With the changing season and our daily life activities having to adjust to the panDAMNic, (my new word for it) exploring and appreciating the outdoors seems more important than ever! For the past few months, I have made it a point to explore the outdoors and truly honor the awes of nature.
One of my favorite places to camp is in the Yellowstone wilderness. Once you get away from the touristy places like Old Faithful, you are surrounded entirely by nature. This meadow was almost 2 miles across—a mile in either direction!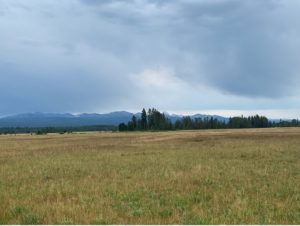 Yellowstone is a place where you can constantly feel the opposing forces of nature—here are a few right her: A cold stream and hot springs. Steam blurring our vision and clear skies overhead; green growing trees and brown dead ones; hard rocks and soft grasses…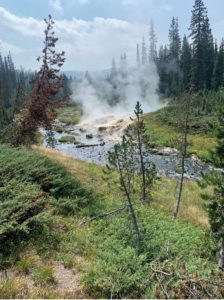 And incredibly high waterfalls!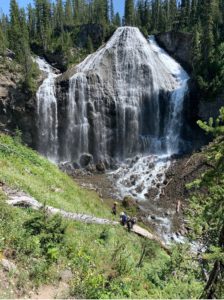 "The Very Scary Hairy Bear" is a song I wrote that was inspired by a dream I had during my first camping trips when I was little. I never forgot it. We wanted to see bears on our camping trip, and had to hang our food every night in tall trees to keep them away, but since we were on horseback the horses probably scared them.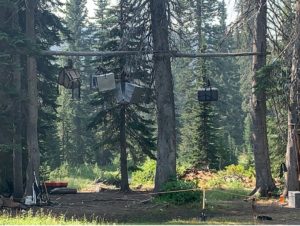 Choose a rock or fallen tree to sit or lie on, and "read a book." Some of my favorite places to travel are found inside books, like this song from Hunk-Ta-Bunk-Ta BOO-2, "Read a Book." Seriously, you don't have to go anywhere! Just listen and sing along right here, or check out my YouTube station and see the video!
At one of our campsites in Yellowstone a friend and I made this "earth alter" just to leave a little bit of our gratitude behind. Then another friend turned the big 5-0, so we blindfolded her in a bandana and led her over to see the pinecone heart.
Whenever you are in the wilderness, the night skies are completely black–and you can see more stars than you can possibly imagine. This song is from my CD, Hunk-Ta-Bunk-Ta HOLIDAYS Songs and Stories that Celebrate Global Light. I never get tired of looking up at all those points of light – and imagining what other forms of life there might be. I am completely awestruck at life on our own tiny planet. As we know it, the cosmos is beyond our comprehension. However, each of us has important work to do while we are here. So– Let's GO!
In Yellowstone, we rode horses over 60 miles and hiked, fished and camped for 6 nights in the wilderness- completely unplugged. It will be an adventure that is forever etched in my memory.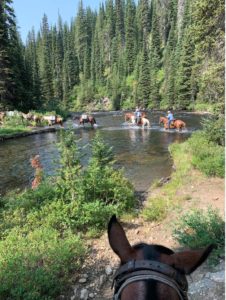 Crossing the last river on our way back to civilization.
As the world turns around and the sun rises and sets, I remember why I love camping and nature. As the sky changes into various colors and seems to expand into infinity, I am completely mesmerized by how tiny I feel and grateful I am to be able to live in this wilderness we call our universe.
If you aren't sure where you can go to camp— aside from your own back yard, or neighbor's house in the basement or on the floor, America has some incredible National Parks—and many have incredible hiking trails and campsites galore.
Here is some fantastic information: https://www.nps.gov/index.htm