As some of you know I have a new recording coming out this spring:"Hunk-Ta-Bunk-Ta HOLIDAYS: Songs and Stories that Celebrate Global Light." It  features major holidays around the world— and all of them celebrate the end of darkness and coming of light or just plain ole' light.
Last year, I posted several singles from the album around these special days: Earth Day, Divali, (the largest most joyous Hindu festival), Thanksgiving and Hanukkah. And in late December, I released this adaptation of one of the oldest carols written just in time for Christmas:
"The Friendly Beasts (Christmas Carol from 1100)." The gentle folk-style song celebrates the birth of baby Jesus in a manger, surrounded by a few friendly beasts and the special gifts they shared with him.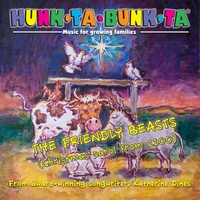 Right on the heels of Christmas, I released "Kwanzaa, Kwanzaa! (An African American Celebration)." This song is full of educational content and celebrates "First Fruits of the Harvest" or Kwanzaa, an African American tradition started in 1966 by sociologist, Dr. Maulana Karenga, as a direct response to the commercialization of Christmas.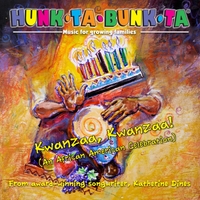 If you are interested is hearing more, you can find all my releases on CDbaby.com, iTunes, Spotify and my website, www.hunktabunkta.com. I will be sure to announce when a new song and the entire album is available.
Moving forward into the new year, I can't wait to complete the "HOLIDAYS" album and write and release more new music! It's not only cathartic being in the studio, but I'm really looking forward to extending my creativity, focusing on writing and producing and sharing my gift with audiences everywhere. In addition I have been asked to apply to become a national touring/teaching artist with Young Audiences.
I have several tours coming up beyond CO as well: to CA, AZ and UT, so check my website and if you'd like to include a performance in your area. I'm also excited about the Hunk-Ta-Bunk-Ta Band as we are offering a global show with lots of chants, and songs from around the world accompanied by masterful musicians and a full array of global instruments.
As 2019 Begins, don't forget to check out some of my favorite resources for new songs, programs and events:
Children's Music Network:The Children's Music Network celebrates the positive power of music in the lives of children by sharing songs, exchanging ideas and creating community. My friend and musical compadre, Alice Burba are co-chairing our international music conference September 20-22.

Songs 4 Teaching:  At SongsForTeaching.com, they listen to all of the music they recommend, selecting music that they hope you (and students!) will find enjoyable and educationally useful. Whenever possible, they try to offer printable lyrics and teaching tips.
Think360Arts: Think360Arts is a community that embraces the arts as a fundamental tool to enhance learning. Their goals are to: Nurture creativity and encourage children in life-long arts involvement, Provide opportunities for authentic arts experiences with professional artists, Help students of all learning styles feel a sense of achievement in learning, social and character development, and self-awareness, Aid teachers in developing imaginative and alternative ways of teaching and encourage a school's deepening commitment to the arts as a key component of the teaching and learning environment.