Happy #WomensHistoryMonth
Originally I was going to highlight a few women who have changed the face of music or have accomplished something remarkable in the space! As I thought about my influences and those who have made an impact…….I thought it would be more valuable to share resources and links of articles who have done just that! But first….lets learn a little more about #WomensHistoryMonth.
#WomensHistoryMonth first started in 1981 as Women's History Week! Since then, Congress has passed multiple resolutions and designated the entire month to celebrate all the contributions that Women have made to society. Every year, we celebrate a different them to center the month arouns. This year's theme is "Visionary Women: Champions of Peace & Nonviolence."
History of Women's History Month:
Now on to the fun stuff, women that have changed the face of music! First, I want to highlight a woman in music that has had the most impact on me, Joni Mitchell. Her music has influenced and shaped the way I listen, the way I create and the way I produce. She is a true poet and I appreciate her craft so much! Of course, I am not the only one. Check out this awesome article that highlights other musicians who have been deeply influenced by her.
I also wanted to do a huge shout out to an awesome Children's Artist, Lucy Kalantari who's album "All the Sounds" won a GRAMMY Award for Best Children's Album!!!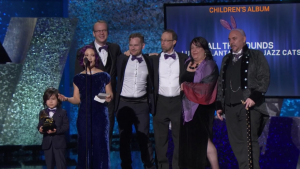 Often, I like to take a look at past present and future influencers. It doesn't matter their age or genre- these women are changing the face of music and what it means to be an artist. When you look up these musicians, it's really neat to see how diverse they are as women and how their unique contributions are influencing the craft.
Awesome Change Agents:
Beyonce
Taylor Swift
Madonna
Ella Fitzgerald
Aretha Franklin
Mariah Carey
Kesha
Dolly Parton
Adele
Rihanna
Miley Cyrus
Ariana Grande
Want to know why the above women are notable? Read what each has accomplished and what sets them apart here: https://www.iheart.com/content/2018-03-07-12-influential-women-who-have-changed-music-how-they-did-it/
Other articles:
https://www.cbcmusic.ca/posts/18174/joni-mitchell-lauryn-hill-30-women-changed-music
https://www.loudersound.com/features/50-women-who-changed-rocknroll
https://www.bbc.co.uk/music/articles/6f9d5d38-4e7b-4b82-8bb6-5e35a3c49dbe